DON'T BLAME ANYONE, JUST TRY TO HELP.
HOW THE CHARITY FOUNDATION «STARENKI» WORKS.
Detector Media
12:00, 12 July 2021
The charity foundation, which helps the elderly, carefully builds its community, offers volunteers a rethinking of life, and reminds you that your grandmother can be lonely.
The social and charity initiative «Starenki» was launched seven years ago. Since then, the branches of the foundation, which provide food and necessities for lonely elderly people, have opened in Dnipro, Lviv, Kharkiv, Kramatorsk, Boryslav, and Kolomyia. The fund collects donations and helps people who are registered in the state territorial centers for social services, as well as those who are wards of the international charity fund «Caritas Ukraine». People in need of help from «Starenki» are usually over seventy; they can no longer work to earn money in addition to pension, and often cannot even leave home. «Starenki» volunteers visit people with social workers. The packages they bring are important to elderly people. But attention and the opportunity to communicate are no less, and perhaps even more important for those people because the wards of the fund often have no one at all, except for volunteers and social workers.
«Detector Media» spoke with Varvara Tertychna and Anna Vereshchak, the co-founders of «Starenki», about the values of the foundation, attracting new volunteers, and the emphasis that journalists should make when telling about help for elderly people.
— Your organization has been helping the elderly for several years already. How willing are Ukrainians to donate money?
Anna: We've noticed that people don't trust charities mostly, no matter in which field these organizations work. When we started in 2015, few people knew how to check charity foundations. That's why we focused on communication with donors on social media: we were building it so that they can be sure that we were a reliable and transparent fund. One of our principles is no cash. There is only an official account of the fund, which receives all donations.
From the first steps, we had the opportunity to go to large-scale PR and talk about our work everywhere. However, we approached this cautiously: we went to the masses little by little. It was important for us to find an audience that fully shares our values. The first volunteers and donors were our acquaintances, who brought their acquaintances — that's how the community around the foundation was gradually built.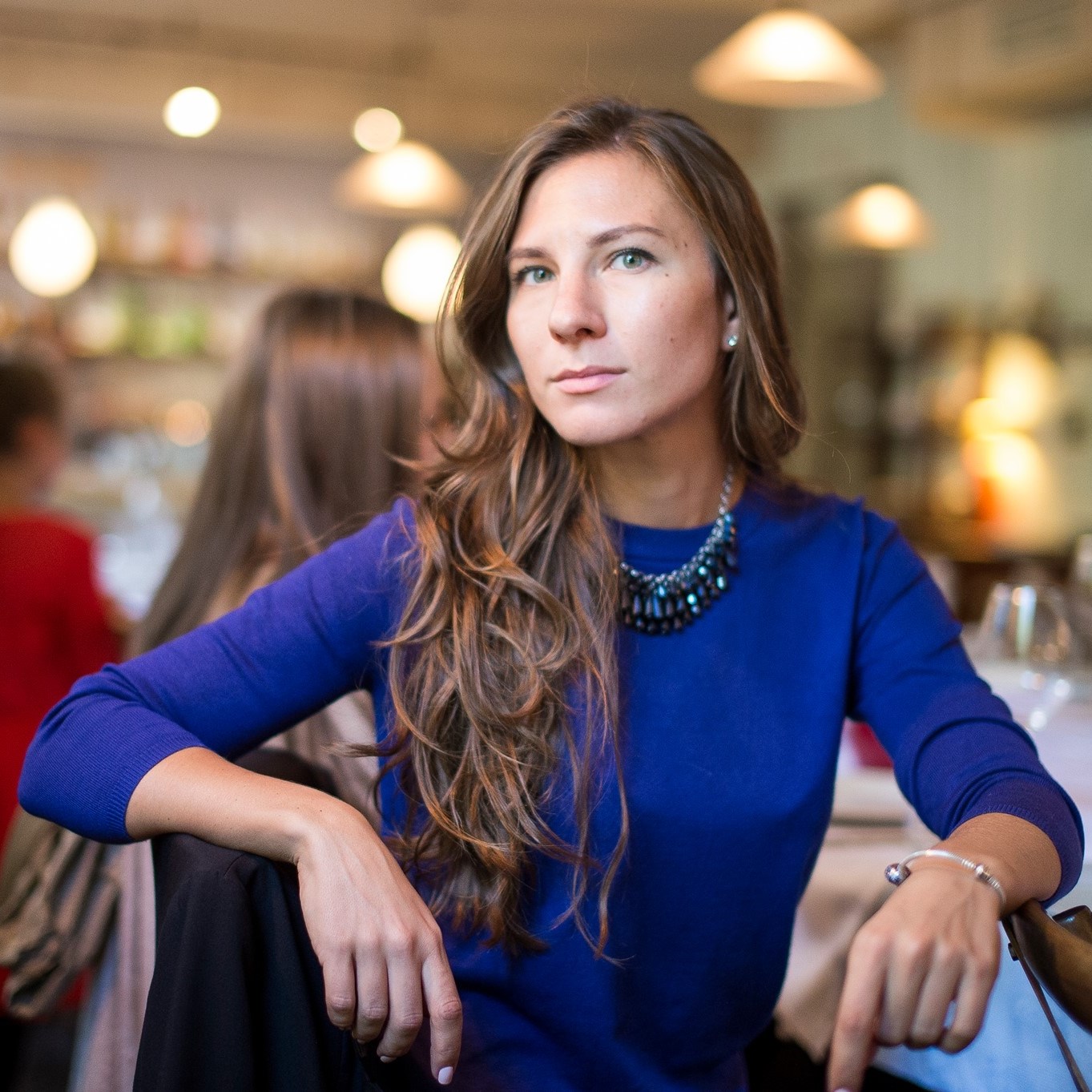 Anna Vereshak, co-founder of Starenki Charity Foundation
Varvara: The turning point was the corona epidemic. Attention to the topic of helping the elderly, especially those who do not go anywhere due to health or social isolation, has greatly increased. We tried to broadcast the idea: «You have your quarantine only now, and these people stay at home for much of their lives». In 2020, the fund raised three times more money than earlier and doubled the number of volunteers. Now the attention to the problems of the elderly is declining.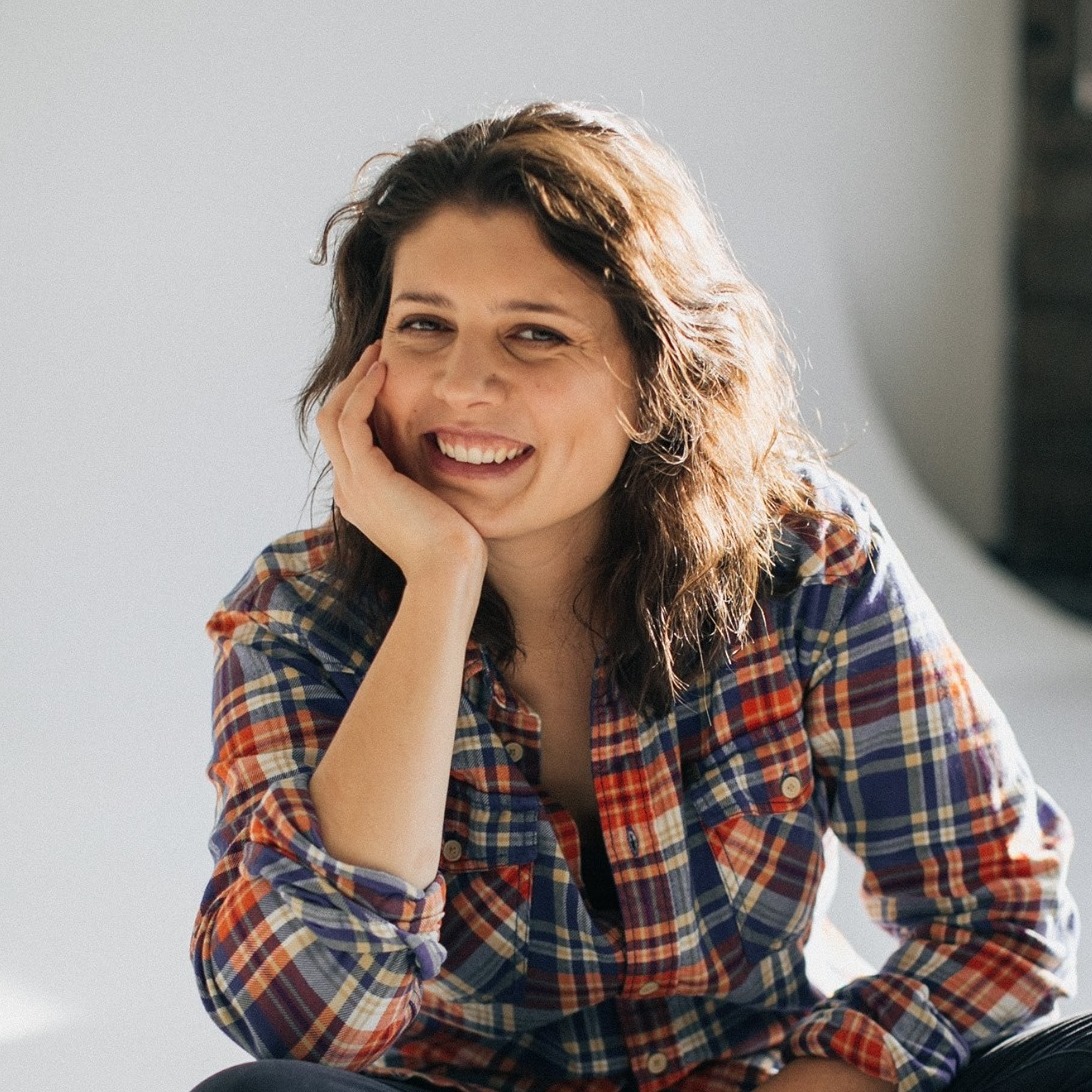 Varvara Tertychna, co-founder of Starenki Charity Foundation 
— How can a person become your volunteer?
Varvara: You can fill in the form and volunteer agreement, go through detailed training from the coordinator — and you can go to the delivery of food packages. On the recommendation of lawyers, we take the volunteers' passport data: if a person does not trust us with such information, it casts doubts on the sincerity of intentions.
At each food package delivery for elderly people, there are two volunteers in the team — the experienced and a new one; after delivery, we ask the experienced volunteer for feedback and make conclusions for ourselves. Fortunately, our «magic» works: we haven't come across bad people yet. Yet one man knocked on the messenger for a long time, demanding the addresses of the elderly women, but we googled his phone number and it turned out that it was exposed on many forums under the ads for the sale of antiques. It is clear why he wanted these addresses. This is one of the reasons why, for the safety of both the elderly people and the volunteers themselves, the foundation does not collect or disclose any personal data of the elderly — all communication is going through state social workers.
Our food aid deliveries have an educational and therapeutic function: they make us meet people of elegant age, whom we usually do not notice, except in the queue at the pharmacy or once every hundred years at the post office (God forbid, on the day of pension payment). Taking part in aid delivery is an opportunity to get out of your well-trodden path from home to work, to see what is in the world around you. When people see these elderly people and the conditions in which they live, hear their stories, they change inside a lot. They start thinking about their retirement, some of the volunteers start making their retirement savings even at the age of 25; they begin thinking about their own family. Sometimes we make dark jokes: if you think, you're all bad, go for delivery. You realize immediately that you have nothing to complain about because you are young, you have arms and legs, and the whole world is open to you. You can decide for yourself what to do, how to relate, where to move next. Being able to make such a visit to an elderly person is a chance to rethink yourself. Moreover, we've got tea parties with cultural events, attended by more active elderly people who can still move freely.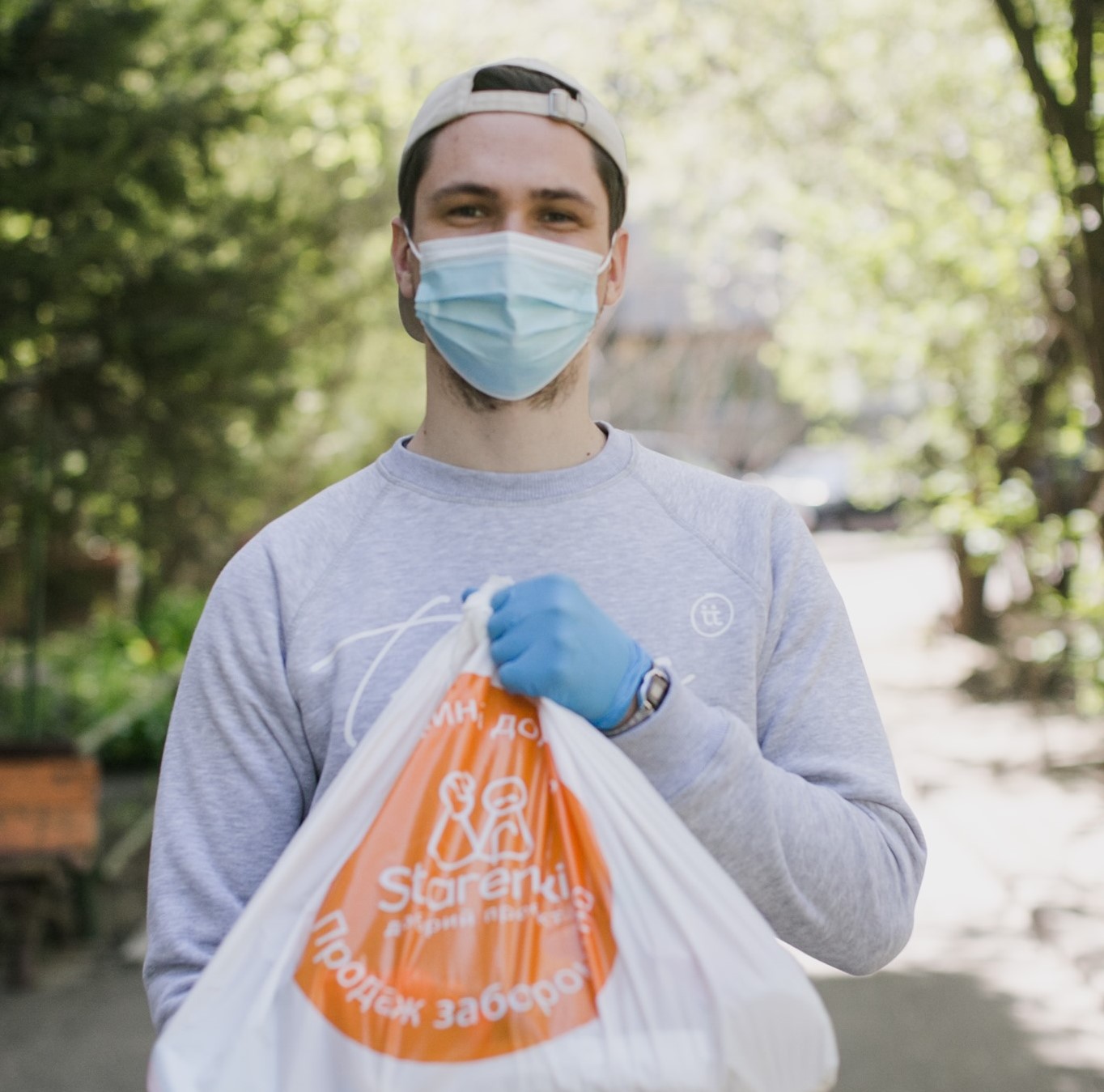 Starenki Volunteer
— What do you need to start a volunteer group in your city?
Varvara: You need free time, and you must agree with all the guidelines of «Starenki». We provide training on the rules of our work with State social authorities. Then there is the cooperation agreement and additional training as a regional coordinator. Someone from our main team from Kyiv will come; you will go to the local social center together and agree on cooperation.
— How do your wards react to the aid you deliver?
Varvara: During the first deliveries of food packages, there were questions like: «What are these packages? What do I need to do now? Whom to vote for?» The elderly people were surprised that it was just aiding with no conditions; they did not understand how it is possible. The reaction to volunteers, on the one hand, is positive. On the other hand, it is sad to see that the arrival of our volunteers is the only opportunity for the elderly to talk to the younger generation. Elderly people are often very moved that someone has come to do something for them. Most volunteers are girls, so elderly women show them photos of their youth, wish them a good husband, happiness, love, tell stories. Remember, Anya, how one of the elderly women offered Katya her homemade liqueur? Someone pours tea, someone else…
Anna: Once we came to an elderly woman, and she organized food for us. What can they afford? Nevertheless, she took care to bake pancakes. Then she said: «Let's have a small drink». And we can't drink alcohol — one of us is driving, another is pregnant. But she begged us so. She took a decanter from the sideboard and poured us just a few drops. We took a bite — and we realized that it was just water. They just want to imagine coziness and hospitality. Those elderly people are happy with the food package, but this is not the matter — the communication with volunteers is the most important event for them.
Varvara: A little effort can mean a lot. Last summer we came to an elderly woman and asked her what she wanted right now. She said she had not eaten ice cream for ten years. The volunteer went down to the shop in the same house and bought her ice cream. This elderly woman recalls the ice cream for a year, she tells everyone about it.
— And what is that which elderly people lack the most?
Varvara: Health.
Anna: Communication and respect. There is no culture of respect for the elderly in Ukraine. Many people forget about their own grandparents, and we want them to take care of other elderly people.
— Do you help with vaccination?
Varvara: No, we don't do that, it's a function of social workers. They go to the pharmacies, see a doctor, and I think they help with vaccinations.
— How are your team's meetings conducted?
Varvara: We started working remotely before it became mainstream. We don't have an office, so earlier our meetings were held in cafes, and last year most were online. The part of our team that goes on deliveries brings stories: what the elderly said, how they met, and so on. Photos are also shared if elderly people allow. The last year has been difficult because we try to comply with all quarantine restrictions, we don't enter apartments. Due to the quarantine, there is almost no communication left — this upsets both the elderly and volunteers.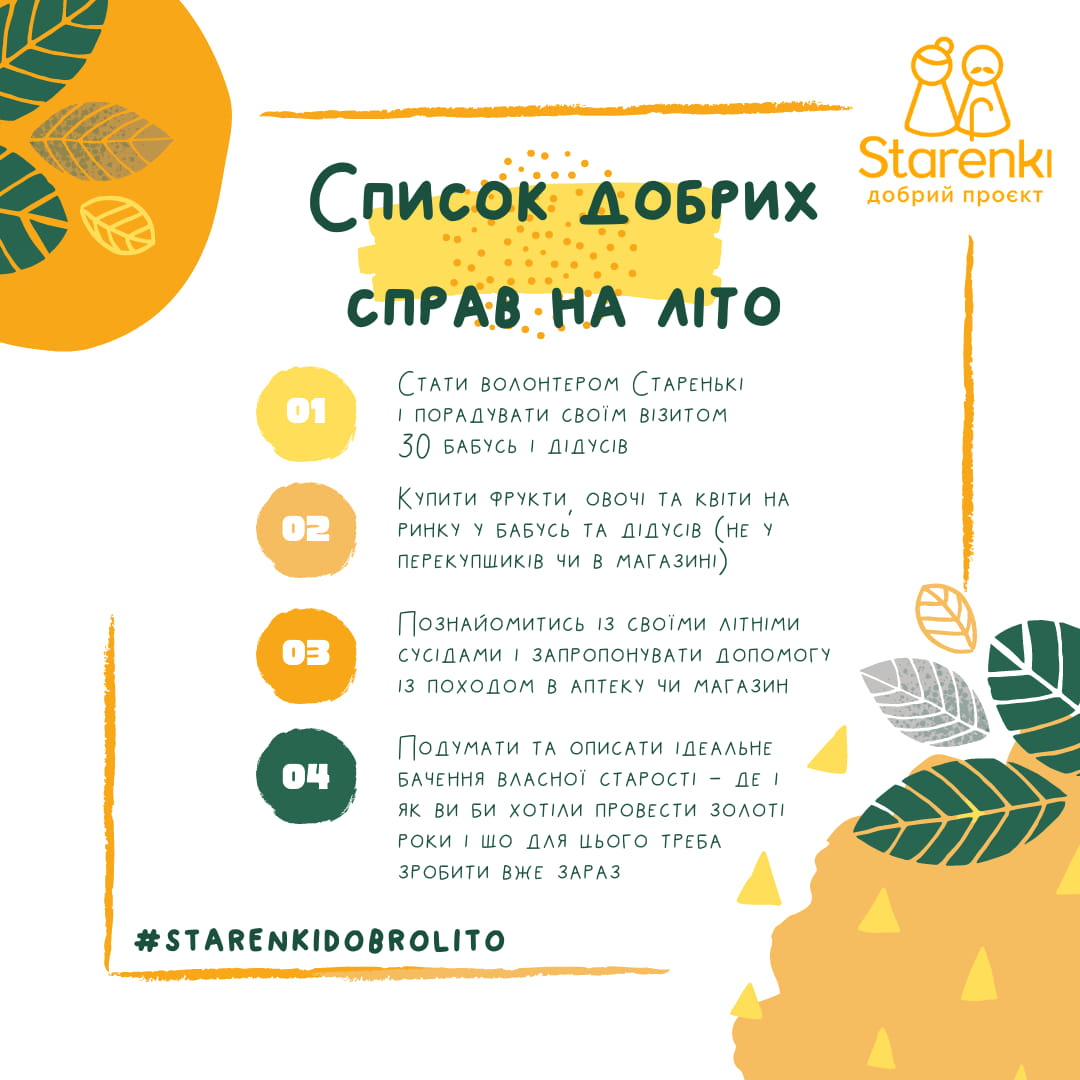 — You launched the project «Stan mojim golosom» [«Become my voice»]. Tell us about it, how successful it was, what was its goal, and did you achieve it?
Anna: The idea was to get in touch with thought influencers and to reach potential volunteers and donors with the help of their audience. We wanted to promote the idea that there are people beyond visibility, we don't see them, but they are cool and you can contact them. We sent out gifts: eco-bags with the «Starenki» logo and motanka dolls made by one of our wards. The dolls were beautiful. A gift card with a few words about the fund and a QR code was enclosed with the gift. After scanning the code, you could go and listen to one of the five stories. The project lacked scale because the number of motanka dolls was limited. Seventeen or eighteen packs of the twenty in total reached the recipients, they opened them, tagged us, which increased the number of our followers on Instagram. There are a few collaborations that I can track thanks to this project.
— «Poza chasom» [«Beyond the time»] is another of your projects. Tell us about it.
Anna: This is an author's project by Kyiv photographer Hrystyna Kulakovska, who is one of our volunteers. It was her initiative; we just helped with coordination. She visited the elderly men and women, photographed them, and recorded their stories. Then she made an exhibition at the art factory «Platforma» at «Gogolfest».
— How do you build connections with the media in general? Were there any problems with this?
Anna: I am a publicist by education; I understand how the media works. Six years ago, when we started, a few cool lifestyle or niche media were close to us. It's not about reaching millions, but about being able to reach our audience — potential volunteers or donors. We've made several attempts to collaborate with large-scale media of general interest, but they are superficially collecting material, and this is ineffective. Their target audience is not ours. The main thing for us is that the values ​​coincide. We are not just talking about volunteering in our foundation, we are saying that you can do something by yourself; you just need to think that there are elderly people out there, and they need help. It is easier for a neighbor to get to know each other and to trust. A year ago, the girls told me that two of our wards lived next door. I've lived in this house for three years and did not know about them.
— How can media people help your case?
Anna: They can write. Not about the fund itself, but the problem. They can inform the audience that there are State territorial centers of social assistance because few people know about this structure, and this structure performs many functions: communication, food and medicine ordering, household help. It's also cool when the media joins us for deliveries. It is difficult to organize, but we are happy about this opportunity. Because when a person sees this mechanism, structure, and people who receive help by themselves — it is perceived differently than when we tell about it.
Varvara: I think it's worth talking about additional meanings. Not only lonely elderly people suffer. We are now getting ready to launch videos about the need to remember our grandparents, to visit them not only on holidays. It turns out that many elderly people are abandoned whole having living relatives. It would also be good to write about bridging the gap between the younger and older generations.
— What is wrong with this topic covered in the media?
Varvara: Ageism! No matter how much they say that it is unacceptable, ageism still occurs in the media and in the ads they take.
Anna: They start looking for someone to blame for the loneliness and poverty of these people, that's it. We are not focused on finding the culprits; we concentrate on how to help these people.
Фото, ілюстрація: Facebook / Starenki, Anna Vereschak, Дмитрий Коренев, Varvara Serdiukova (Tertychna)
Source: https://cs.detector.media/community/texts/184428/2021-07-12-ne-shukaty-vynnykh-a-namagatysya-dopomogty-yak-pratsyuyut-starenki/